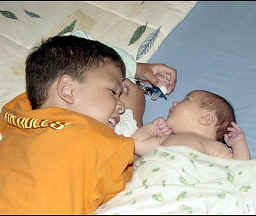 UM SIB SMILE
(University of Miami
Sibling Studies Measuring Infant Learning and Emotion)
We are currently seeing babies who start our study between two months and twelve months of age. The study goes until the babies are three years old. Some of the babies have an older brother or sister on the ASD spectrum, and some do not. The study includes an assessment of the older sibling.
Our study is funded by Autism Speaks (AS/NAAR), UM-NSU CARD, the Marino Autism Research Institute (MARI), and the National Institutes of Health (NIH). The study is conducted at the University of Miami.
You can reach us at 305-284-1122 or by emailing Professor Messinger at dmessinger@miami.edu. His homepage is http://www.psy.miami.edu/faculty/dmessinger/index.html
What is UM SIB SMILE?
UM SIB SMILE is inviting you to take part in a study of infants with an older brother or sister. Some of the older brothers and sisters will have Autism Spectrum Disorder (ASD) and some will not. We want to learn more about the social and emotional development of siblings of children with an ASD diagnosis. State-of-the-art assessment techniques will provide precise measurement of early development.
Who can participate?
We are looking for infants between the ages of two months and one year who are the younger brothers or sisters of children who a) have received an ASD diagnosis or b) are developing typically. If you would like to help researchers at the University of Miami understand the early signs of autism and related disabilities, please contact us.
What will I do?
You and your baby will be asked to participate in visits which are conducted several times in the first 3 years of life. The visits last about an hour and you will be compensated for your time. We will ask you to play with and show pictures to your baby. A researcher will also play with your baby, and we will evaluate your baby's communication and mental development.
How can I get more information?
Our laboratory is conveniently located west of US 1 in the Flipse Building of the University (5665 Ponce de Leon Blvd.) with covered parking. If this sounds interesting to you, and you would like to schedule an appointment or obtain more information, please call us at (305) 284-1122. We look forward to hearing from you.

University of Miami, Department of
Psychology
, Child Division
Daniel Messinger, PhD.
305-284-1122, 5665 Ponce de Leon Blvd., Coral Gables, FL 33146-0721